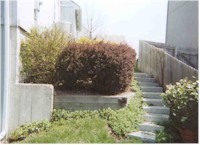 Since the business began we have done many types of lawn and landscaping projects. We can build the largest of rock walls, stacking block, or tie walls and will be glad to build the smallest as well. We can tear out your old landscaping design and redo it with a fresh new look using the best products and techniques. We are glad to install all types of shrubs and trees (up to 5" in diameter).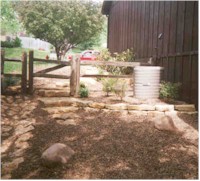 Many homes today have problems draining water away from the foundation. Drainage problems of this nature may lead to extremely expensive repairs to your concrete basement or foundation and wooden support structures. Hey, even just a little puddle of water can ruin your carpets and personal property; not to mention mildew and stale odors. A litte prevention can go a long way. Elite Tree Service can handle drainage problems using several techniques including grading, downspout extentions, and trimming bushes to help deflect runoff water away from window wells and seams.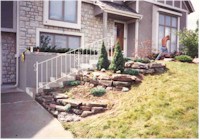 We can help you restore your lawn offering whole-yard sodding, verticut, core aeration and seeding. Why not have that perfect lawn this summer? You can do it with our services helping to take the back-breaking work out of keeping your lawn healthy and clean.