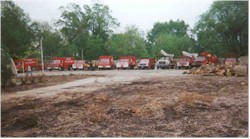 Elite Tree Service currently operates with approximately 10 to 12 large commercial trucks with aerial working lift capabilities up to 60 feet high. The aerial trucks provide a safe and economic way for our employees to complete the job.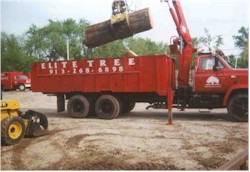 We also have log loader trucks available for manipulating heavy trunks of wood to be hauled away. Log loader trucks help our employees safely remove debris as quickly as possible which in return creates savings for our customers.

We have skidsteer loading equipment for heavy materials that allow us to work in backyards and hard-to-reach areas to complete our projects quickly. Some of our trucks have Tommy Gates and winches which can pull tree stumps or logs from tight areas. The winches operate with up to 10,000 lbs.. of capability and help lift almost 2 tons of material into the trucks.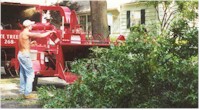 We operate with state-of-the-art wood chippers able to chip material 12 inches thick and 40 feet long, helping to remove debris as quickly as possible. Our stump grinding equipment allows us to remove trees and grind away the tree stump and roots below the surface. Imagine, grass and other landscaping could be growing where a tree was just removed. Our stump grinders are self-transportable so we can access many hard-to-reach areas to remove both small and large stumps.

The chainsaws and small hand equipment we use are top-of-the-line Stihl machinery only. Elite Tree Service and its employees have come to expect the best with our equipment.